Accroche
Les chiens du silence trains dogs to help people with hearing loss.
Contenu
Body
In partnership with Fondation Pour l'Audition, specialist dog trainers from Chiens du silence are raising Thelma, an Australian Shepherd, as a future hearing dog.
THE TRAINERS
Inspired by an American method created nearly 50 years ago, hearing dog training represents an innovative, promising way to improve the lives of people with hearing loss.
Endorsed by the French Ministry of Solidarity and Health, and the Ministry of Agriculture and Food, this training is carried out by specialist dog trainers, who have in turn complete three years of training.
In the first year, the trainers receive information on the dogs, at a school of agriculture. In the second year, they are trained by ENT doctors, hearing care practitioners and speech therapists. In the third year, the course ends with sign language training.
DOG TRAINING
The association works in particular with shepherd breeds, which are known for their intelligence and analytical skills.
Two-month-old puppies are selected for their compatibility with the person in need, who will have sent an application describing their type of hearing loss. The animals are trained with these two features in mind to produce highly specialized hearing dogs.
The dogs are then received by a host family up to the age of 18 months. They attend a weekly class where they learn basic commands, as well as behavior compatible with family life and social activities. 
After this period, the six-month training can begin. This includes learning the attitudes to adopt when faced with certain sounds (alarms, doorbells, car horns, etc.), commands in French sign language, physical contact with their owner, and more.
The dogs involved in Les chiens du silence training can be recognized by their blue harnesses that link them to their owners, representing the bond created by their shared lives.
The combined work of Les chiens du silence and Fondation Pour l'Audition improves the lives of people with hearing loss, by providing support that helps them become more autonomous.
To date, some 40 hearing dogs have been provided free of charge to people in need. Demand for hearing dogs is growing year on year and would not be met without the help of Les chiens du silence's numerous donors.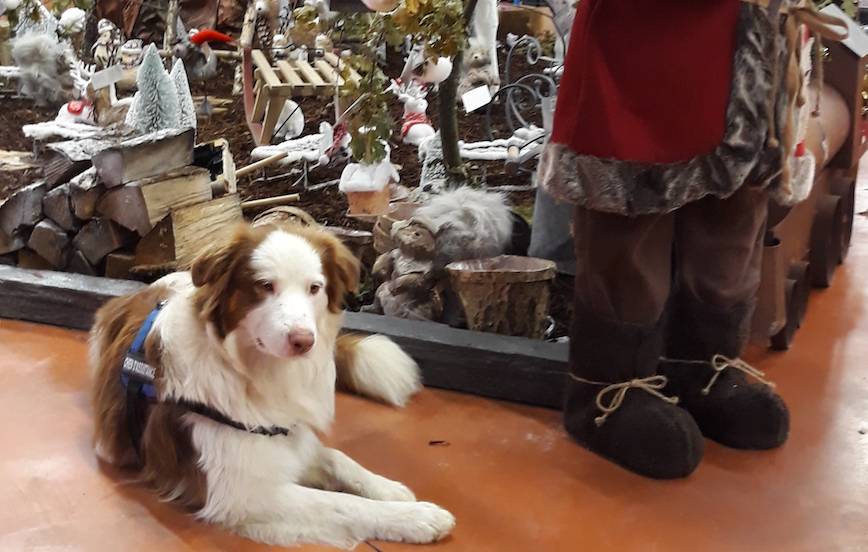 Body
Mis à jour le 29/05/20194 mois se sont écoulés depuis les dernières nouvelles que nous avons eu de Thelma. Depuis, elle a bien évolué et a débuté sa formation.
"Thelma a fini son adolescence, c'est une chienne douce, très obéissante, parfois espiègle et pleine de vie. Thelma est à son aise dans tous les lieux ouverts aux publics. Elle connait les ordres de bases et respecte les consignes qu 'elle a appris. Elle vient de rentrer en formation qui se déroule en deux temps : valider les ordres de bases et son attitude en extérieur, puis apprendre l'indication des sons et mettre en sécurité les personnes qu'elle accompagne, ainsi que la langue des signes. Courant juin, elle va commencer l'indication du son. Nous finissons actuellement le travail d'obéissance sans laisse et en promenade pour qu'Alice puisse avoir une chienne près d'elle lors de leur sortie en forêt. Thelma sera remise à Alice au mois de novembre."